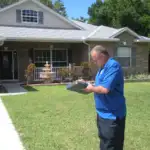 There are lots of benefits to successfully having your home inspected. Inversely, the consequences to not completing a home inspection can have jarring ramifications. The many reasons for you to have your home inspected include benefits to homeowners that can save money and lend valuable information. By having a home inspection, homeowners can also gather the potential need for upgrades or repairs that may be necessary. It is generally a way to prepare to ensure the general upkeep of a home. Home inspections can serve a great purpose to the current resident as well as prospective buyers. If you are looking to sell, a successful home inspection can serve as a great negotiating tip. More reasons not to skip a home inspection are below.
To Learn More About The Home
Typically, the most important benefit of a having a home inspection completed is to reveal the big picture identity of the home. Getting a home inspection done will reveal the many nuances that tell the story of your home. Whether good or bad, doing the work to reveal the little known facts about the home will go a long way in caring for it in the future.
To Reveal Illegal Additions to the Home
Home inspections are a great way to tell whether or not the home has had adjustments that aren't up to code. If your home has an addition that isn't allowed, for instance a deck that hasn't been built up to code, getting rid of it will be one of the things on your to-do list before you can think about selling the home. The home insurance can also be put at risk if you learn about additions that aren't quite up to code.
To Give Yourself Peace of Mind
Even if you didn't get the results from your home inspection that you quite wanted, the goal of achieving peace of mind can be accomplished. Once you receive the results from your home inspection you can then take action to bring the home up to code. Once you complete the home inspection, you also find out about any issues that could make the home uninhabitable, which also brings peace of mind.
To Determine the Overall Health of the Home
If you have an older home, the health of a home is a bigger concern than average. Though everything may seemingly be running fine within the home, you won't truly know it's full condition until you have an expert inspect the home thoroughly.
Insurance Purposes
The reality of the matter is that some insurers will require your home to be in certain condition upon agreeing to issue you a policy. If your home has certain conditions and you find out about them from a home inspection, it could make insuring your home a more straightforward process.
To Help Predict Any Looming Costs
Having a home inspection is a great tool in predicting the costs of future repairs or enhancements. During your home inspection, you will learn about its condition in real time. If there are also certain parts of the home that are aging or wearing away, a home inspection could reveal when you should start looking for a replacement.
Safety: To Learn About Urgent Needs
If you have any conditions in your home that could cause immediate harm to you or your family, a home inspection would reveal that. For instance, a home inspector would be able to detect radon, carbon monoxide or high levels of mold. If this is the case in your home, it could save a lot of hassle in the long run.
To Help Protect Your Investment
Because you've already likely made a long-term commitment to the home, you have a vested interest in making sure it lasts as long as possible, or at least long enough to sell. By having a professional home inspection completed, you'll be able to find out about the steps you'll need to take to protect your investment long term.
To Get an Unbiased Opinion on the Health of the Home
Because you've been attached to the home for a considerable amount of time, having an impartial third party come in to inspect its health is the best way to get an unbiased synopsis of your home. A third party home inspector in Central Florida is the best route to ensure feelings don't affect an honest assessment.
To Eradicate Pest issues
If you have a looming pest problem that's yet to rear its head, a great way to either stop one from happening or ending it in its early phases is through a comprehensive home inspection. By having the foundation of the home inspected, you'll be able to tell early on if there are signs of pet infestations that could damage the home.