New Construction Inspections
Don't get stuck with nonworking appliances, unprofessional painting jobs, and shoddy work all around. Have your brand new construction inspected BEFORE you close and save yourself a headache.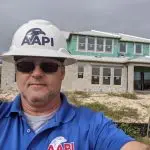 So you're having a house built or you're buying a brand-new house. Either way, you are still going to want to have a home inspection performed on the home by a licensed, certified, and insured Windermere Home Inspection Company.
You may ask yourself, "Why, it's a brand-new house?"
As a home buyer, especially when it's new construction, most people tend to look at it emotionally. They are picturing where the couch is going to go, where the television is going to fit, setting up the kid's bedroom, and not looking at the very details of the house. Unfortunately a lot of time it's not till after you've moved into the house and start to look around that you notice all the flaws that should have been caught before you moved in.
I don't want this to happen to you!
Having built many houses I can tell you that your house is only as good as the people who did the work. Many builders have multiple crews that are building multiple houses at the same time. There is no way to tell if the people who built your house did a professional job without having a home inspection.
I have seen everything from architectural design flaws that will create drastic problems with the home over time, to incredibly shoddy workmanship covering every system from the plumbing and electricity to the actual construction of the framing and the roof. Some builders whose superintendent overlooks the job site are on top of the people doing the work and making sure that the quality and standards are met, but I can assure you this is relatively few and far between.
Many superintendents are pressured by the builder to get the house finished so that it can be sold and the builder can make the money to continue building more homes. It is in this rushing that many times corners are cut in quality is sacrificed.
A typical home inspection does not include cosmetic issues.  Cosmetic issues I'm looking for when inspecting your new construction are:
Painting
Trim Work
Wall and Ceiling Texture
Carpet, Wood floors and/or tile installed correctly
Appliances
Too many times the painter does the trim work and then the painting of the walls doesn't match the trim and you can see the discoloration throughout the home. I have also seen brand-new appliances that have not worked. I have seen where people have put ladders on lower roofs to reach the upper part of the exterior wall or eaves and the latter has damaged the shingles on the lower roof.
Often, there are small items that are passed off with the idea that they will get finished before the home is sold. The construction worker is then sent to another job site to do work there in the work on your home may not get done.
Without having a home inspection many of these items will not be found.
New Construction Doesn't Guarantee there are no problems
I have found just as many things on a brand-new construction inspection than I have on houses that have been lived in for years.
Check out the craziness I found on the second floor of this BRAND NEW HOME!
As you can see from the video above, you can not take it for granted that just because you are purchasing a brand-new home that there are no flaws or damages!
The best time to get a home inspection on a brand-new construction home is right before the final walk-through.
Everything should be done or close to done besides the final cleanup. Many builders try to rush the purchase and I go in to inspect and sometimes appliances are not installed, plumbing is not finished, countertops are not installed, and a host of other issues that should have been done in order to be inspected properly.
A good rule of thumb is to make sure you have a professional that is caring about your interest, like Me. 🙂
Give me a call today and let's make sure your build and I will be happy to inspect your home to make sure it is up to the standard of a brand-new home.