Home Inspection Service for Home Buyers
Certified & Insured!
Congratulations!! You're buying a home!
You've put the offer in, it's been accepted and now it's time for all the inspections to start. Looking for a home inspection service company can be a daunting task but I'm here to let you know it doesn't have to be. I've helped thousands of home buyers (and investors) purchase homes that were a perfect fit for their families and others we have helped to stay clear from those money pits.
I would love to do the same for you!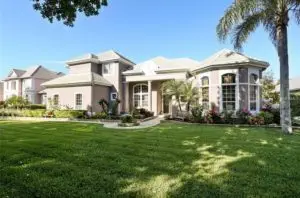 When hiring a Windermere home inspector to inspect the biggest investment you want to make sure it's not an inspector that is not just doing a job but one that truly cares about you as their client.
For me, I feel it's my duty to make sure you get the best home inspection on the property you are looking to call home. From the time you call me on the phone or email me for a quote, whether you hire me or not, you are a client and someone I will personally be looking out for.
As a previous superintendent and builder for contractors, I not only look at the property and the systems of the building but I'm also looking at the quality of materials and workmanship. The first question that almost every buyer asks me when we chat is, "What do you inspect and look for when you're performing a home inspection?"
Overview of what is included in a Home Inspection?
This question right here is probably the number one question I gets asked, besides, How much do you charge for a Home Inspection.  I inspect a property as if I m the one purchasing it so every inspection gets my full time and quality with no corners being cut.
There is actually a method to the way I do home inspections that ensure nothing is missed and everything gets checked, even down to every outlet top and bottom, and every light switch
Our Full Home Inspections include:
Roof, vents, flashings, and trim.
Gutters and downspouts.
Skylight, chimney and other roof penetrations.
Decks, stoops, porches, walkways, and railings.
Eaves, soffit, and fascia.
Grading and drainage.
Basement, Foundation, and crawlspace.
Water penetration and foundation movement.
Heating systems.
Cooling systems.
Main water shut off valves.
Water heating system.
Interior plumbing fixtures and faucets.
Drainage sump pumps with accessible floats.
Electrical service line and meter box.
Main disconnect and service amperage.
Electrical panels, breakers, and fuses.
Grounding and bonding.
GFCI's and AFCI's.
Fireplace damper door and hearth.
Insulation and ventilation.
Garage doors, safety sensors, and openers.
Since the list of what I inspect is pretty extensive I thought it might be beneficial to share with you a more in-depth list of what we inspect, what we're looking for with the different component and why is it important.
How to Schedule a Home Inspection 
To schedule a home inspection service all you need to do is simply follow the link below and fill in as much information as you can about the property you are buying.
As soon as I get your email I'll take a look at the home on the property appraisers website and contact you with a price for your home inspection.
Or you can always reach me at 407-902-7510 if that works best for you.