Four (4-Point) Point Inspection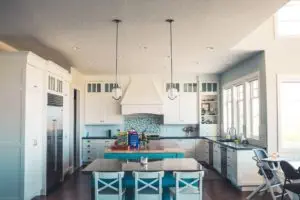 A 4 Point inspection is one of those Florida Insurance Inspections that are specifically performed for insurance purposes. A Certified Home Inspector Windermere will inspect the 4 main systems of your home: Roof, Electrical, Plumbing, and HVAC. Your Insurance company requests that a 4-point inspection is performed on your home if you are purchasing a new home owner's policy for let's say a home you just purchased or are renewing an existing one on homes that are over 30 Years Old.
This inspection will allow the Insurance company to determine what liability they will assume when insuring your home. It's basically used for insurance underwriters to determine risk.
We've listed below the most commonly asked questions about 4 point inspections in Florida.
When is a 4 Point Inspection Needed in Florida?
Many of the insurance companies require four-point inspections on homes that are usually 30 years old or older. If you are buying a home that was built later than 1988 then chances are you won't need a 4 point inspection. You'll just need to check with your insurance company to verify whether they'll need one or not.
If the home is older than 30 years then you're going to need to get a 4 point inspection before the insurance company will write you a policy. As you can imagine, the way homes are being built today is much different than the way they were built years ago. From the aluminum wiring to polybutylene piping in the home, there is a lot to take into consideration when insuring an older home.
NOTE: The information in a 4 point inspection is specific to the insurance companies questions about the four systems and it is NOT TO BE USED IN PLACE OF OR IN ADDITION TO A COMPLETE HOME INSPECTION. There is a four-point inspection form that is used specifically for the insurance company that we will be filling out and supplying you with.
What is Included in a 4 Point Inspection?
There are 4 major systems of a home that could be problematic and cost the insurance company quite a bit of money if they were to write you a policy. It's these 4 systems that will be inspected and reported on to the insurance company.
When performing a four-point inspection of your home we are looking for the condition and age of the following systems.
Electrical System – Does the home have copper, aluminum, or knob and tube wiring and looking to see the brand of the electrical panel.
Roof – What type of roof is it, shingles, tile, tin?  How old are the shingles, are there any missing, are there any leaks?
Plumbing System – What types of pipes are being used for the plumbing, copper, PVC, galvanized, or polybutylene?
Heating/Air Conditioning System (HVAC) – Is there a woodburning stove, central gas fireplace or a portable heater in the home?
If you are having a complete home inspection performed on your home you're not going to be able to use that report for a 4 point inspection. Your Insurance company is looking for specific information on these four systems and needs a specific form filled out.
Not Just Anyone Can Perform a 4 Point Insurance Inspection?
In order for a 4 Point Inspection to be accepted by your insurance company, all inspection forms must be completed, signed, and dated by a verifiable Florida-licensed professional. Examples include:
• A general, residential, or building contractor
• A building code inspector
• A home inspector
Here at All American Property Inspections, our inspectors are highly trained professionals that are licensed and certified to perform a four-point inspection on your home.
If your insurance company is asking you for a 4 point inspection, give us a call right now and we will get you taken care of.
Call to Schedule Your 4 Point Inspection:
407-902-7510