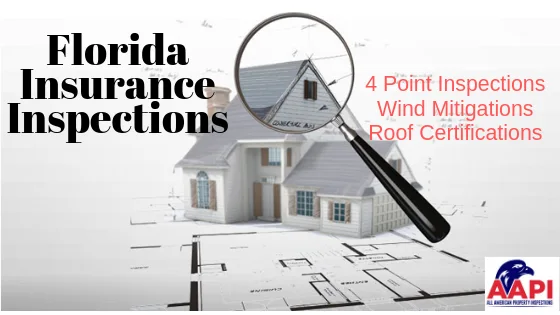 A Florida Insurance Inspection on your home is different than having a thorough Home Inspection performed.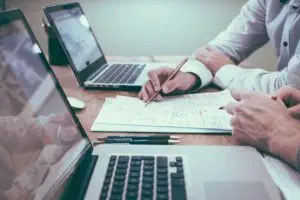 There are three Insurance Inspections that you may need or even want. Two of these are mandatory under certain circumstances before the insurance company will even write you a policy. The third one is more for you, the homeowner, to save money yearly on your insurance.
A Home inspection, on the other hand, is for you the buyer or even the seller. This is a complete overview of the home, appliances, electric and so forth. Curious about what we inspect and is included in our home inspections read all about it here…
>>> What is Included in a Home Inspection <<<
Required Insurance Inspections
4 Point Inspection – This inspection is required on homes that are 30+ years or older. It checks the 4 biggest components of a home that if something was to go wrong would cost the most to fix. These components are the Electric, Plumbing, Roof, and  HVAC (Heating and Air Conditioning)
To find out more and schedule your 4 Point Inspection, read our post all about 4 Point Inspections and what to expect from them.
Roof Certification – One of the major concerns here in Florida for insurance companies is the life expectancy of your roof. It's safe to say that replacing a roof can cost thousands of dollars and dependent on the shape of your roof, there may be damage that will need to be fixed.
For that reason, an insurance company may request that your home get a roof certification stating the condition of your roof. If this is the case check out our page Florida Roof Certifications and let's get you scheduled so we can get you taken care of.
The Florida Insurance Inspection You'll Want to Get ASAP
The one inspection that you probably don't know about, is not available in all states and that will save you money, yearly, on your home owner's insurance is…
Wind Mitigation Inspection (also known as Windstorm Inspection) – This is one of the simplest inspections you'll ever have done on your home. It takes about 15 minutes is an easy report and can save you lots of money over the years on your insurance.
This inspection will look at different items in your home that each carries a certain percentage of a discount. So the more items you have in your home that are what the insurance companies are looking for the bigger your yearly discount will be.
Find out in our article on Florida Wind Mitigation Inspections the items we inspect and be sure to schedule your windstorm inspection today.
FYI – A Wind Mitigation is a Florida statute (law) so the insurance companies have to give you the discounts.